This is the only place you can buy the Flex Fence Kit in the UK and Europe!
Simple DIY Louver Solution to turn your space into a covered area at a tilt of a bar.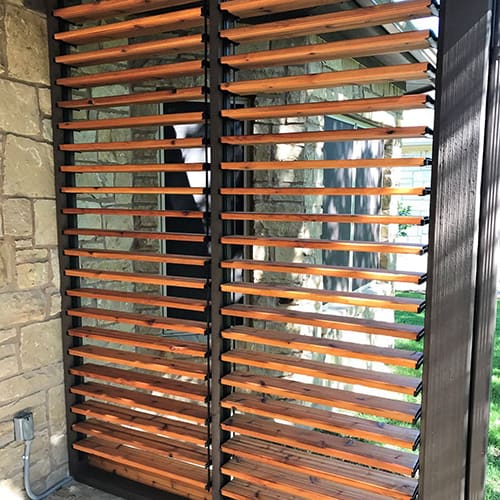 Move the slider to see how it works
FLEXfence is a unique and exciting louvre system that lets you customize your landscaping. Create unique louvred designs and patterns without the problems associated with spacing and fitting boards.
All fastening hardware
2 pieces of 4-foot rails
22 Brackets
1 Operating Bar
Easy to follow instruction sheets
Please note that the Flex Fence kit doesn't include the wooden slats it is just the kit mechanism.
FLEXfence is made from recycled PVC, is U.V. stabilized, and has excellent strength qualities.
FLEXfence is available in 4-foot standard kits can be easily sized to meet your needs.
The louver system that's perfect for pergolas
Our kit, the Flexfence Louver System can be adapted for any number of design projects and is especially applicable for pergolas.
The kit can be mounted horizontally. Once the rails and brackets have been mounted on your frames, measure the opening distance and cut your boards square and to length.
It is very important that the boards are not too long a span to prevent them from sagging.
shade
Create a shaded area for the hottest part of that day.
warmth
Protect yourself from a cold breeze by simply closing the slats.
comfort
Create a private space when using a hot tub or seating area
entertainment
The prefect space for entertaining that can adapt for your needs