Create Shade or Let in the sun, you choose!
We supply the kit you supply the slats!!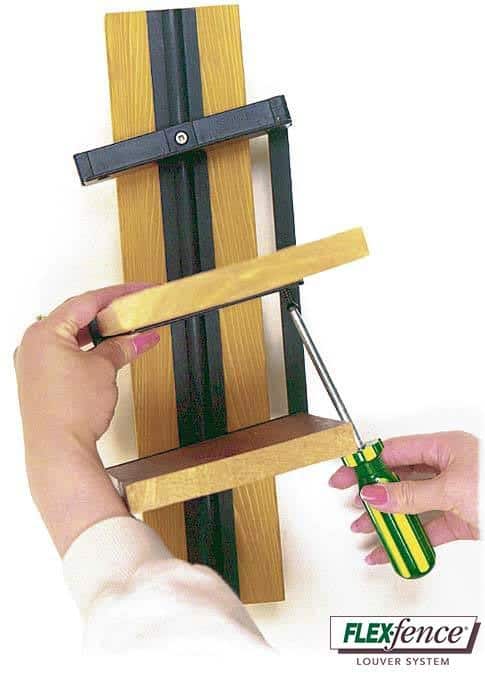 Simple DIY Solution to turn your space into a covered area at a tilt of a bar.
FLEXfence is a unique and exciting louvre system that lets you customize your landscaping. Create unique louvred designs and patterns without the problems associated with spacing and fitting boards.
All fastening hardware
2 pieces of 4-foot rails
22 Brackets
1 Operating Bar
Easy to follow instruction sheets
Please note that the Flex Fence kit doesn't include the wooden slats it is just the kit mechanism.
FLEXfence is made from recycled PVC, is U.V. stabilized, and has excellent strength qualities.
FLEXfence is available in 4-foot standard kits can be easily sized to meet your needs.
FLEXfence has been tested for snow loads and wind. The Independent testing determined that FLEXfence Louver Hardware infill sustained a load application of 5.17 KPa (107.98 psf).
Additional information
| | |
| --- | --- |
| Dimensions | 120 × 50 × 25 cm |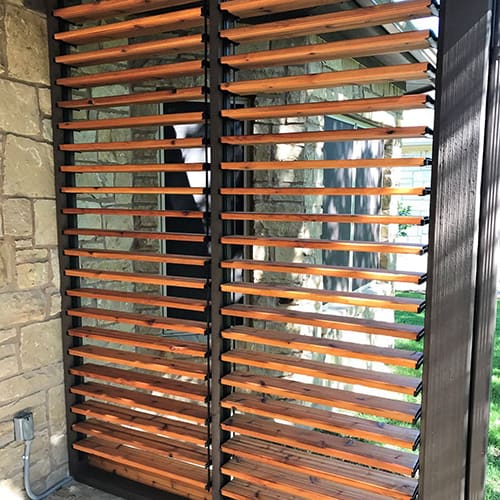 Move the slider to see how it works
What is a louver?
A "louver" is from the French word "l'ouvert" or "the open one" and is most often associated with interiors.
A window, blind or shutter with an arrangement of parallel horizontal and sometimes vertical blades or slats, made of plastic, glass, metal or wood and is designed to regulate ventilation or sunshine while keeping out elements such as dirt or water.
We have adapted the concept for exteriors – hardware to mount blades in a frame – and made it applicable to fences, gazebos, pergolas, etc.
FLEXfence rails can be easily cut and butted together to make a tall privacy screen.
When cutting and butting together make sure to cut the adjoining ends to create a 4″ space between the center holes.
Should you wish to move all the louvers together you can make a connector piece from the extra operating bar.
The connector piece should have 2 pre-punched holes. Attach the connector piece on the opposite ends of operating bar placement.
Perfect for pergolas
Our kit, the Flexfence Louver System can be adapted for any number of design projects and is especially applicable for pergolas.
The kit can be mounted horizontally. Once the rails and brackets have been mounted on your frames, measure the opening distance and cut your boards square and to length.
It is very important that the boards are not too long a span to prevent them from sagging.
shade
Create a shaded area for the hottest part of that day.
warmth
Protect yourself from a cold breeze by simply closing the slats.
comfort
Create a private space when using a hot tub or seating area
entertainment
The prefect space for entertaining that can adapt for your needs
Be the first to order our innovative new flex fence kit in the UK and Europe. It's not available anywhere else.
Simply complete the form and we will message you as soon as its available.